The Baltic Ports Organisation is a union of over 50 of the most important ports from nine countries situated around the Baltic Sea.

The organization was established on 10 October 1991 in Copenhagen for the purpose of facilitation of cooperation among ports and increase of maritime capabilities in the Baltic Sea region.

The main objective of BPO is the improvement of the competitiveness of sea transportation in the Baltic Sea region by increasing the efficiency of ports, conducting marketing in this region as a strategic logistics centre, exchange of information, initiation of new technologies in the port sector for the purpose of integration of ports into the transportation chain and coordination of cooperation among member ports.

The vision of BPO is the promotion of the seaways of the Baltic Sea.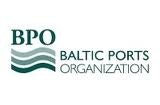 Contact:
Secretariat of the Baltic Ports Organisation
Actia Forum Ltd
ul. Pułaskiego 8
81-368 Gdynia
Poland
tel.: + 48 58 627 24 67
fax: + 48 58 627 24 27
www.bpoports.com
e-mail: bpo@stoports.com